Introduction
JEREH casing head, tubing head, hanger, casing head housing and so on are suitable for casing procedures of different types in high pressure and severe conditions to control wellbore pressure and adjust oil/gas wells.
We can provide customized casing head housing depending on customers requirements.
Features
Design and manufacture conform to API spec 6A, and material applied meets NACE MR0175 requirements.
Straight-bore with 45°shoulder design.
"VR" thread is an optional for you.
Workable with a wide variety of slips and mandrel casing hangers.
Normally furnished with threaded outlets. Studded outlets are available upon request.
Bottom connections can be threaded, slipped-on or welded.
Versatility of bottom sealing: Slip-on welded, Slip-on welded with O-ring, Threaded and Slip Lock etc.
Customized design is available.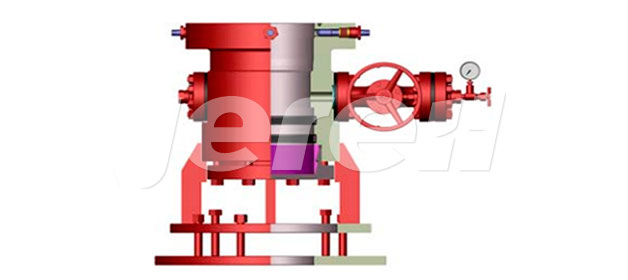 Slip casing head housing
Feature
Simple installation, adjustable orientation, two seals on the connection with casing, seal test port is available.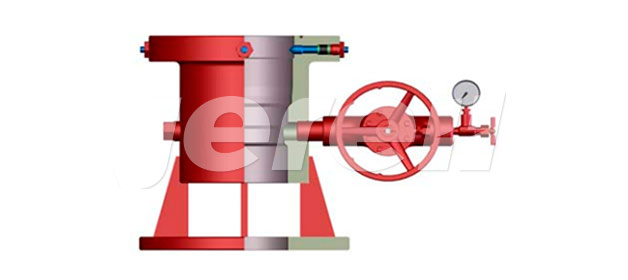 Welded casing head housing
Lower connecting casing is welded with test port for seam hydro test.
Connecting casing size: 13 3/8", 20"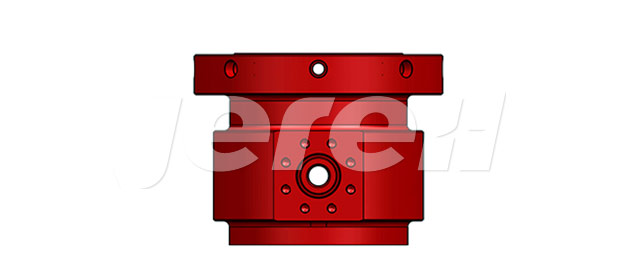 Threaded casing head housing
Lower API casing thread for connection with casing.
Thread size: 8 5/8" ~ 20"
Specifications

Casing Size

Flange

Pressure (psi)

Dimensions (inch/mm)

Weight
Lbs/Kg

A.inch/mm

B.inch/mm

C.inch/mm

7"

9"

2000

16.09/408.6

6.57/167.0

8.76/222.5

280/127

3000

17.15/435.6

6.50/165.0

8.76/222.5

370/168

5000

18.90/480.0

6.4^/163.0

8.76/222.5

460/208

10000

19.37/492.1

6.22/158.0

8.76/222.5

545/247

11"

2000

16.59/421.3

6.57/167.0

10.88/276.4

500/227

3000

16.22/411.9

6.50/165.0

10.88/276.4

510/231

5000

20.59/522.9

6.42/163.0

10.88/276.4

530/240

10000

20.43/519.0

6.22/158.0

10.88/276.4

670/303

7-5/8"

9"

2000

16.09/408.6

7.05/179.0

8.76/222.5

285/129

3000

17.15/435.6

7.01/178.0

8.76/222.5

372/169

5000

18.90/480.0

6.93/176.0

8.76/222.5

455/206

10000

19.37/492.1

6.81/173.0

8.76/222.5

540/245

11"

2000

16.59/421.3

7.05/179.0

10.88/276.4

458/208

3000

16.22/411.9

7.01/178.0

10.88/276.4

509/231

5000

20.59/522.9

6.93/176.0

10.88/276.4

775/351

10000

20.43/519.0

6.81/173.0

10.88/276.4

715/325

8-5/8"

9"

2000

16.09/408.6

8.15/207.0

8.76/222.5

285/129

3000

17.15/435.6

17.95/202.0

8.76/222.5

375/170

5000

18.90/480.0

7.87/200.0

8.76/222.5

450/204

10000

19.37/492.1

7.76/197.0

8.76/222.5

530/240

11"

2000

16.59/421.3

8.11/206.0

10.88/276.4

340/154

3000

16.22/411.9

7.95/202.0

10.88/276.4

460/209

5000

20.59/522.9

7.87/200.0

10.88/276.4

710/322

10000

20.43/519.0

7.76/197.0

10.88/276.4

890/403

9-5/8"

9"

2000

16.59/421.3

8.94/227.0

10.88/276.4

320/145

3000

16.22/411.9

8.78/223.0

10.88/276.4

430/195

5000

20.59/522.9

8.70/221.0

10.88/276.4

680/308

10000

20.43/519.0

8.54/217.0

10.88/276.4

662/300

10-3/4"

11"

2000

16.59/421.3

10.04/255.0

10.88/276.4

300/136

3000

16.22/411.9

10.04/255.0

10.88/276.4

410/186

5000

20.59/522.9

9.88/251.0

10.88/276.4

560/254

10000

20.43/519.0

9.76/248.0

10.88/276.4

655/297

11-3/4"

13-5/8"

2000

16.71/424.5

11.06/281.0

13.50/343.0

469/213

3000

17.78/451.5

10.98/279.0

13.50/343.0

587/266

5000

19.28/489.6

10.87/276.0

13.50/343.0

695/299

10000

21.93/557.1

10.79/274.0

13.50/343.0

2840/1288

16-3/4"

2000

17.90/454.7

11.06/281.0

16.63/422.3

1410/639

3000

18.76/476.6

10.98/279.0

16.63/422.3

1530/694

5000

20.46/519.7

10.87/276.0

16.63/422.3

1660/753

13-3/8"

13-5/8"

2000

16.71/424.5

12.64/321.0

13.50/343.0

380/172

3000

17.78/451.5

12.52/318.0

13.50/343.0

500/227

5000

19.28/489.6

12.36/314.0

13.50/343.0

750/340

10000

21.93/557.1

12.36/314.0

13.50/343.0

2800/1270

16-3/4"

2000

17.90/454.7

12.64/321.0

16.63/422.3

1380/626

3000

18.76/476.6

12.52/318.0

16.63/422.3

1505/682

5000

20.46/519.7

12.36/314.0

16.63/422.3

1730/785

16"

16-3/4"

2000

17.90/454.7

15.24/387.0

16.63/422.3

980/444.5

3000

18.76/476.6

15.00/381.0

16.63/422.3

995/451

5000

20.46/519.7

15.00/381.0

16.63/422.3

1720/780

18-5/8"

20-3/4"

3000

20.34/516.6

17.72/450.0

20.63/523.9

1480/671

21-1/4"

2000

16.73/425.0

17.72/450.0

21.13/536.6

1310/594

5000

25.02/635.6

17.72/450.0

21.13/536.6

5180/2349

20"

20-3/4"

3000

20.34/516.6

19.09/485.0

20.63/523.9

1331/604

21-1/4"

2000

16.73/425.0

19.09/485.0

21.13/536.6

1210/549

5000

25.02/635.6

19.09/485.0

21.13/536.6

5090/2308